Welcome to Mydiamonpainting!
Our Company Information
Shenzhen Huanjin Technology Co., Ltd.
Address: Room 401, Building No.1, Xintianxia Industrial City, Vanke City Community, Bantian Street, Longgang District, Shenzhen, China
Our Story
This is from a few years ago, when some unpleasant things happened due to busy work and my family. It made me very anxious and exhausted. Unable to concentrate on life, often insomnia at night. Until I discovered DIY diamond painting.
DIY diamond painting is like a close friend and a patient doctor. When I sit and make a diamond painting, I feel calm and relaxed. It feels so good. Slowly I returned to my normal life.
Since then, I have decided that I will always love DIY diamond painting! And to pass this kind of thing that brings relaxation and joy to more people~
Mydiamonpainting.com trustpilot review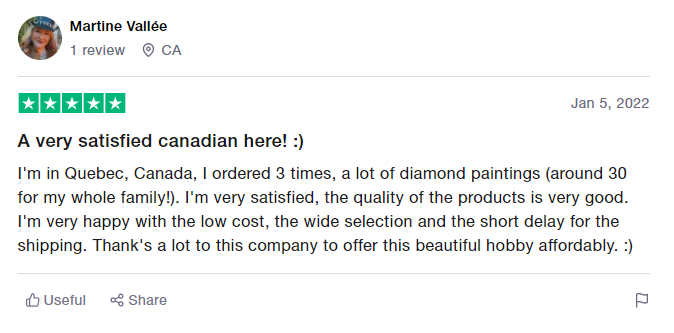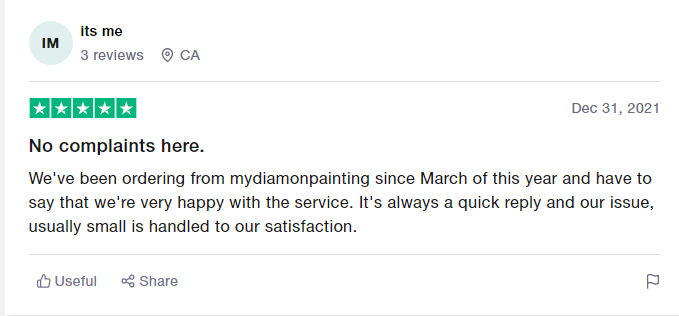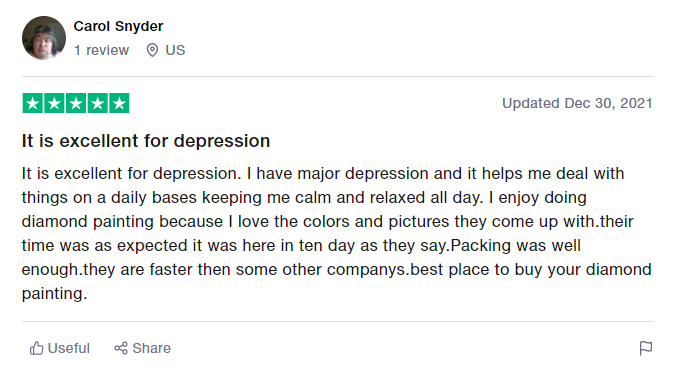 Our Products
💎What we offer:DIY Diamond Painting
(Ordinary Diamond Painting, Custom Diamond Painting, Diamond Painting Crafts, Diamond Painting Tools)

🌷Including round diamonds / square diamonds / shaped diamonds / crystal diamonds
🌷Including various sizes
Small size (suitable for beginners, children) 15x15cm (5.90x5.90in), 20x30cm (7.87x11.81in)
Normal size (the size most customers buy) 30x40cm, 40x40cm, 40x50cm, 50x60cm
Large size (the effect will be better, the details will be more perfect) 30x80cm, 40x80cm, 45x85cm, 50x100cm, 25x115cm
🌷Including various styles
Animals, flowers, cartoons, characters, festivals, landscapes, abstractions, calligraphy, movies, etc.
If you don't find a picture you like, you can leave us a message and we will value your feedback!
🌷Custom Diamond Painting
We offer custom diamond painting service (meaningful and very popular)
You can send us the pictures you want to customize,
and we have professional designers to beautify the pictures and design exclusive diamond paintings for you!
Learn more about custom diamond paintings here:About Custom Diamond Painting
🌷Diamond Oainting Crafts
Oh! Yes, we also have a lot of diamond painted crafts.
Such as diamond painting keychains, pendants, stickers, earrings, canvas bags, hats, notebooks...
🌷Diamond Painting Tool
This is a good helper for making diamond paintings. Using tools, we can finish diamond painting faster and better.
Common tools are drill pens, trays, rollers, glue, storage boxes...

Our Attitude
We are committed to offer our customers a variety of the latest products.
The principle we have been holding to is to provide excellent customer service and friendly support. So we always keep an eye on the latest trend in any series of products and put our customers' wishes firstly.
Our team always believe in high quality and exceptional customers service can help us grow quickly. Therefore, we sincerely hope that our customers can enjoy our products, and we are very willing to provide these products for you.
Special Reminder
【We only have this website: mydiamonpainting.com. Any other similar website is not ours. Please look for our logo when shopping, so as be able to reasonably protect your rights.】
If you have any suggestions, please don't hesitate to let us know via email:
mydiamonpainting@gmail.com